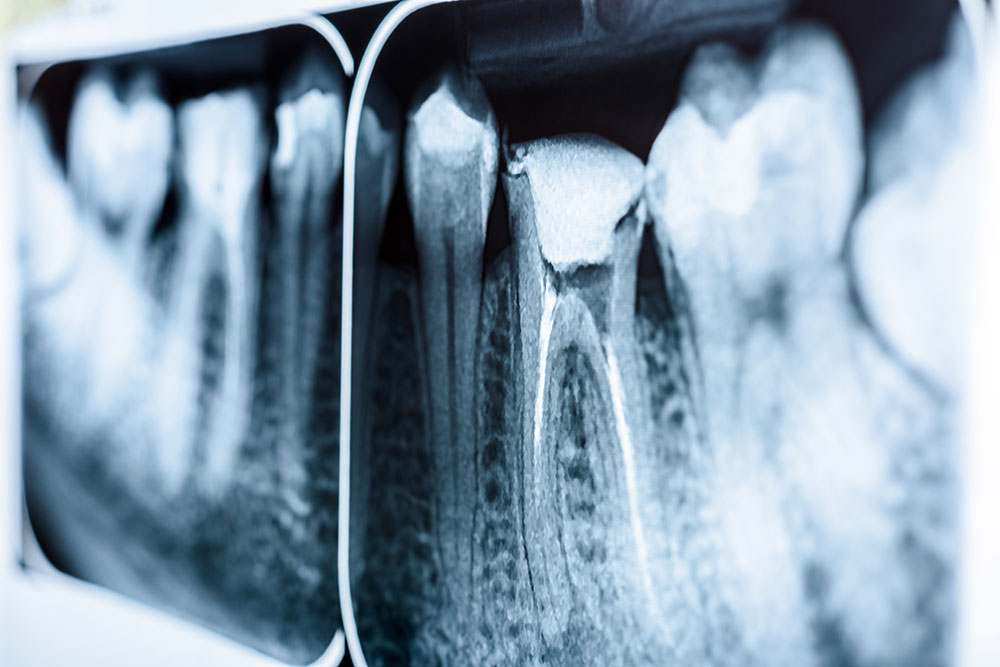 Tooth decay can spread quickly if it isn't properly treated. If tooth decay has spread beyond the tooth's crown and reached the pulp or even spread to the roots, our dentists, Drs. Noles, Estes, and Steinhauer may recommend a root canal.
At Noles Family Dental, our dental team is committed to providing a comfortable, relaxing environment in which you can get high-quality dental care. Our dentists have performed numerous root canal treatments and will guide you through every step of the process so you feel comfortable and confident that you are getting the best dental care in Greensburg, Indiana.
Prevent Future Infections While Preserving Your Natural Teeth
When a tooth's pulp is diseased or damaged, it increases your risk for infection.
A root canal will not only treat a current infection, but it can protect the tooth from future infections.
Cleaning and disinfecting is the first step of the root canal process. An opening is created in the crown, or top, of the tooth to provide access to the pulp and roots. Our dentist will use small instruments to gently clean out and disinfect the pulp.
Once all irritants have been removed from the pulp, our dentist will start the cleaning and disinfecting process for the root canals. During this step of the process, X-rays and other imaging may be needed to help determine the length and shape of the root canals. This allows our dentist to see the smallest, most narrow parts of the tooth and ensure that all damaged or diseased tissue is being removed.
Reshaping of the root canals may occur during the cleaning and disinfecting process. This prepares the area for the filling.
After our dentist verifies that all diseased and damaged tissue has been removed and all canals are cleaned and property shaped, it is time to place the filling. The root canals are filled with a specialized rubber-like material. The material has an adhesive quality which allows it to seal off the root canals. By sealing off the root canals, you are protecting the tooth from future infections.
Once the roots are filled and sealed, your dentist will determine the best way to restore the crown of the tooth. In some situations, the opening needed to perform the root canal is rather small and can easily be filled with a filling or an inlay or onlay.
A dental crown may be recommended if the root canal required a large hole or the crown was weakened by decay or infection. Our dental team is experienced in taking impressions so that the dental crown is created to securely fit over your tooth.
Patient Comfort Is Important to Us When Performing a Root Canal
Noles Family Dental understands that many patients have heard that a root canal is a painful procedure. People often associate root canals with pain because they are in pain when they need one. However, the root canal procedure actually relieves your pain by removing any irritation or infection that can trigger a painful response.
We can assure our patients that we do everything we can to make them comfortable. Not only do our dentists, Drs. Noles, Estes, and Steinhauer use a local anesthetic to help numb the treatment area, but they keep in constant contact with our patients so we can address any issues or concerns throughout the treatment.
Trust Us With Your Dental Care
When choosing a dentist to perform a root canal, you want to make sure you are not only choosing someone who is experienced, but someone you can trust. At Noles Family Dental, we are committed to creating trusting relationships with our patients.
A trusting relationship starts with clear and effective communication. Our dental team takes the time to explain your treatment options and address any concerns or questions. We do this because it is important that our patients feel comfortable and confident in the treatment they are receiving.
Make an appointment to speak with our dentist about root canals by calling our office in Greensburg, Indiana or by filling out the Contact Us form.