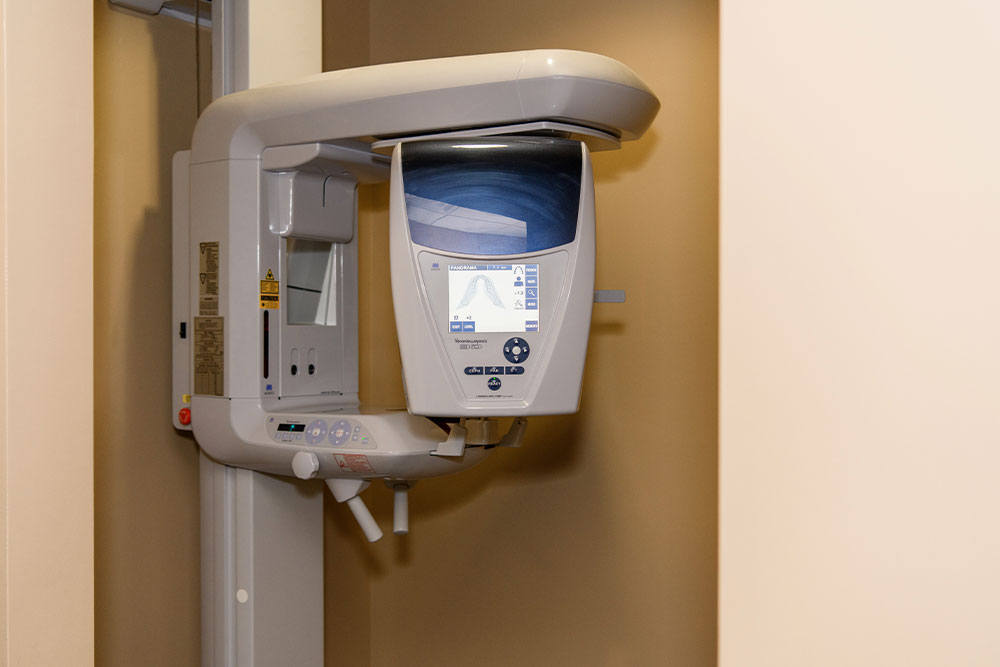 To help our dental team at Noles Family Dental in Greensburg, Indiana better understand the problems affecting your oral health, we may recommend a Cone Beam Computed Tomography scan, otherwise known as a CBCT scan.
CBCT Helps Accurate Diagnoses of Dental Problems
No two dental patients are the same. At our office in Greensburg, Indiana, we create customized treatment plans designed to meet our patients' specific dental needs. The use of CBCT scans helps our dentists detect and diagnose a number of dental problems that are often undetectable with just the use of traditional X-rays or other types of dental imaging.
How Does a CBCT Scan Differ From Traditional Dental X-Rays?
Traditional dental X-rays and CBCT scans help our dentists detect and diagnose problems that cannot be seen with just a visual examination of the teeth, mouth and gums. However, what our dentists see on the imaging varies depending on whether they are viewing an X-ray or a CBCT scan.
Traditional dental X-rays only provide our dentists with a 2D image of your teeth and gums. Our dentists can use the images captured on these X-rays to diagnose problems ranging from tooth decay and gum disease to infections and cracks or fractures.
While these X-rays are useful, some dental problems may go undetected because traditional X-rays only capture images of bone, not soft tissue. To accurately detect problems that occur in the soft tissue or deeper in the bone, a CBCT scan is needed.
A CBCT scan provides detailed 3D images of not only your teeth and bones, but also your gums, jaw, sinuses, and nerves. Our dentists use the information obtained from the detailed CBCT images to help determine what type of treatment to recommend.
Why Would Our Dentist Want to Perform a CBCT Scan?
There are several reasons why our dentists may recommend a CBCT scan. Sometimes it is used to help in the treatment planning process; other times, it is used to help gather information that helps our dentists diagnose and treat a problem.
Some reasons our dentists at Noles Family Dental may recommend you undergo a CBCT scan include:
Planning for an upcoming surgery

Confirm a temporomandibular joint disorder (TMJ) diagnosis

Assess if there is any damage or other problems resulting from TMJ

Determine where dental implants should be placed

Assess and evaluate the nerve canals, jaw, sinuses and nasal cavity

Assess bone structure

Obtain an accurate image that correctly shows tooth orientation

Detect tumors, cysts and other bone cancers
Is a CBCT Scan Always Needed?
A CBCT scan might not be necessary if our dentists can use traditional X-rays and other imaging to accurately diagnose your dental problems. However, if the images obtained by traditional X-rays and other imaging methods are inconclusive, or you are still experiencing problems, our dentists may recommend you undergo a CBCT scan.
We will discuss with you whether a CBCT scan may be needed during your consultation.
Schedule a Consultation With Our Experienced Greensburg, IN Dentists
At Noles Family Dental, we use CBCT scans and other types of advanced, state-of-the-art dental technology to create accurate treatment plans for all of our patients. Schedule a consultation with one of our experienced dentists and see how we use the latest dental technology to improve the patient experience at our dental office.
Call our office today to schedule an appointment or use our online contact us form to request a callback to schedule an appointment. We look forward to welcoming you to our dental family.