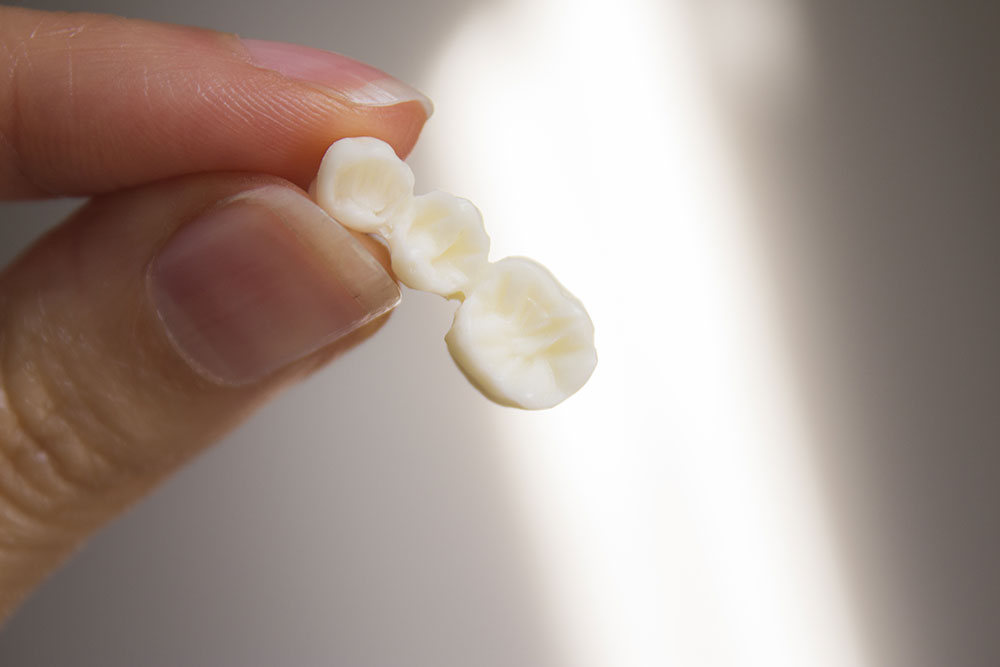 Missing or severely damaged teeth should be replaced as soon as possible. If your gums and most of your teeth are healthy, but you only need to replace a single tooth or several teeth located next to each other, a fixed dental bridge might be recommended.
At Noles Family Dental located in Greensburg, Indiana, our dentists, Drs. Noles, Estes, and Steinhauer are committed to helping you restore your smile. We can help you determine if a fixed dental bridge is the best option for you.
What Is a Dental Bridge?
A dental bridge is a custom-made dental appliance that fills in the space created by missing teeth. By filling in the gaps created by missing teeth, the dental bridge restores chewing ability, prevents teeth from shifting and moving, helps maintain facial structure, and restores or improves speaking ability.
Dental bridges are sometimes referred to as fixed dental bridges. The term "fixed" is applied to permanent dental bridges. These dental appliances are either cemented into place or attached to a dental implant.
The Different Types of Dental Bridges
All dental bridges use a pontic, or a false tooth, as a space filler. The pontic has strong, sturdy supports on both sides to hold it into place. The type of support used will depend upon the type of dental bridge.
The most popular dental bridges are traditional fixed bridges and implant-supported bridges.
With a traditional fixed bridge, two dental crowns are used to support the pontic. The dental crowns are placed on the two natural teeth on both sides of the gap.
An implant-supported bridge relies upon dental implants to provide support for the pontic. Dental implants are surgically placed into the jawbone and will be used to provide support for the pontic.
Noles Family Dental offers both types of dental bridges. Our dentists will discuss your options with you and help you find the best treatment for your particular situation.
Dental Bridges Last a Long Time With Good Oral Hygiene Habits
Dental bridges don't last forever. However, they can last a long time, approximately 5 to 15 years, before they need to be replaced. Practicing good oral hygiene is extremely important if you want your dental implants to last.
The stability of your dental bridge depends upon the health of the surrounding teeth and gums. Unhealthy teeth and gums do not have the strength to continue to support the dental bridge. The dental bridge can shift and move or even fall out without adequate support. Following a good oral hygiene routine that includes daily brushing and flossing and scheduling annual dental exams and professional cleanings can help prolong the lifespan of your dental bridge.
We want to help you get the most out of your dental bridge. Our dental team will create a continuing treatment plan uniquely designed to help you maintain your oral health. We can also provide recommendations for things you can do and lifestyle changes you can make that will help you improve your oral health.
Schedule a Consultation With Our Greensburg Dentist to Discuss Dental Bridges
Think you might be a good candidate for a dental bridge and live in the Greensburg, Indiana area? Call Noles Family Dental to schedule a consultation with our family dentist to discuss dental bridges.