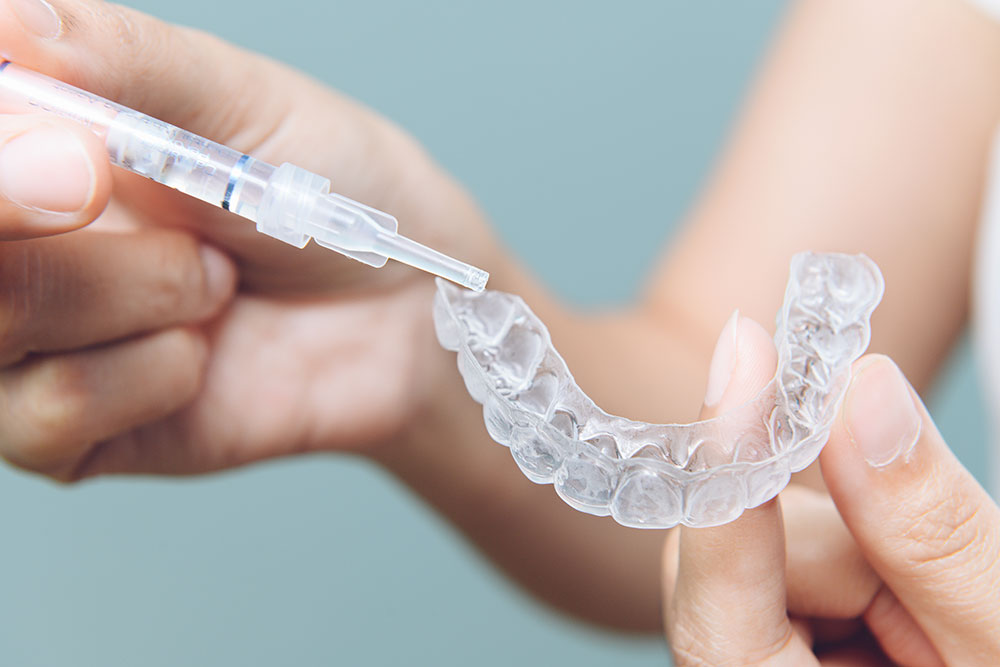 Creating the smile you have always wanted is our priority at Noles Family Dental. We offer professional teeth whitening as part of our cosmetic dental services to help our patients who want a quick way to safely whiten and brighten their smile.
Noles Family Dental offers several treatment options for patients in Greensburg, Indiana and surrounding areas who are interested in professional teeth whitening.
Professional Teeth Whitening can Brighten Your Smile
The teeth whitening kits you find in the dental aisle at the store probably won't get you the results you want because they are weaker. There are various rules and regulations that place limitations on the kits' bleaching agents.
Our dentist's teeth whitening procedures and products use a higher concentration bleaching agent. Since the concentration is higher, you see better results.
Getting better results is just one of the many reasons people choose to get their teeth whitened at our Greensburg dental office.
Some of the other benefits of professional teeth whitening include:
Less teeth sensitivity – our dentist customized the bleaching agent used so that you get the best results, but it won't cause sensitivity
Faster results – patients can sometimes see results within a few hours of treatments
Patients remain comfortable while whitening their teeth because the procedures are customized just for them
Better, more even results – there is less likelihood that spotting or uneven color changes will occur with professional teeth whitening
Why Teeth Become Stained or Discolored
The enamel of your teeth, the hard shell that provides the color, is extremely porous. Every time your teeth come into contact with something that may contain dyes or coloring, it is absorbed by the porous enamel.
Brushing and scheduling regular dental cleanings can sometimes remove the stains and discoloration that happen to the teeth. However, sometimes the discoloration and stains are difficult to remove.
Creating a Teeth Whitening System That Works for You
There is no one-size-fits-all approach to whiten teeth. Discoloration, teeth sensitivity, dental history, oral health and personal preferences all need to be considered when deciding which teeth whitening systems to use.
To help you get the best results, we take a customized approach to teeth whitening at Noles Family Dental. Our dentists discuss your personal smile goals and create a customized treatment plan to help you achieve those goals.
Request a Consultation to Discuss Teeth Whitening
Call Noles Family Dental today to schedule a consultation to discuss teeth whitening with our experienced team. Our dentist will help you determine if you are a good candidate for professional teeth whitening. If teeth whitening isn't for you, we can provide you with other treatments and procedures offered at our Greensburg dental office that may be able to help you get the smile you have always wanted.