Dental Implants (Full Procedure)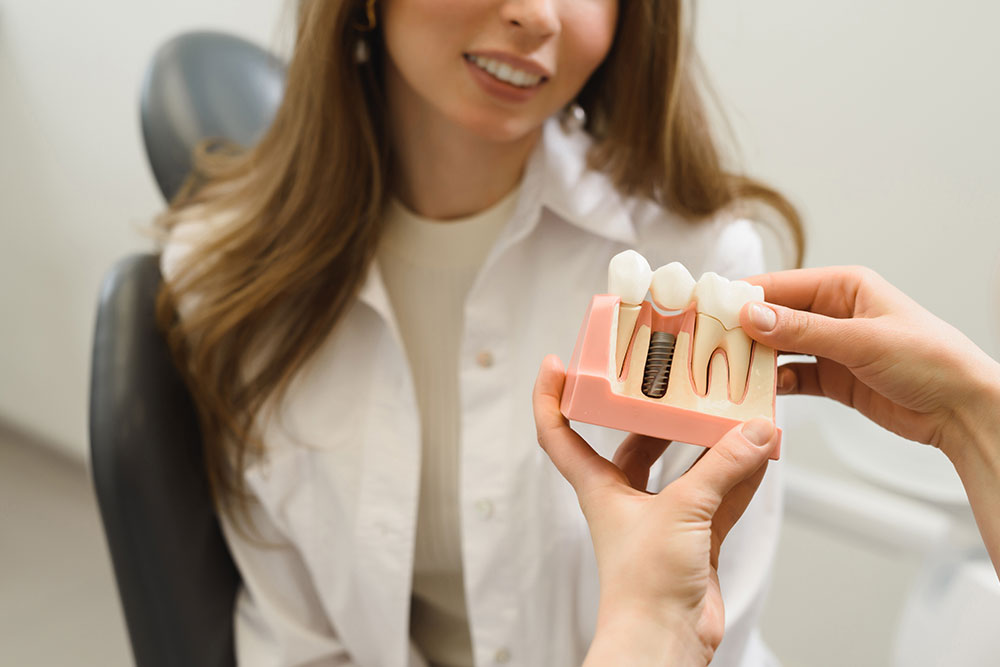 Once a permanent tooth is lost, it is lost forever — but that doesn't mean you have to continue living with missing teeth. Dental implants, a dental service offered by Noles Family Dental, may be a treatment option if you need to replace one or more missing teeth.
What Is a Dental Implant?
Dental implants are made up of three parts: the post, the abutment and the restorative crown/denture. The post, which is a small titanium screw, acts like a natural tooth's root. It is placed directly into the jawbone.
The abutment is a small attachment that is placed on the top of the post. It acts as a connector between the post and crown/denture.
The last part of the dental implant is the crown or denture. This is the part that looks like your natural teeth. Crowns and dentures are made of durable ceramic material. With the use of the abutment, they are securely attached to the post.
The replacement option used will depend upon how many teeth you are replacing. Dental crowns replace one or two teeth, while dentures are typically recommended for replacing multiple teeth.
One Convenient Location for All Your Restorative Dental Care
Avoid going through the trouble of working with multiple dentists at different offices to get dental implants by choosing Noles Family Dental.
All replacement and restorative services are performed right here in our office by our experienced dental team. We can do everything from hard and soft tissue grafts and extractions to the placement of all dental implant parts, from the physical implant to the crown or dentures. Any impressions or imaging that dental labs need to create the restorative dental appliance, such as dentures or crowns, are also performed on-site.
By offering all services in one convenient location, we can provide high-quality, continuous care throughout the entire dental implant process. Our staff will be there to guide you through the process to answer any questions you may have and address any problems or concerns that may arise.
Dental Implants Don't Just Improve Your Smile
Missing teeth are more than just a cosmetic issue. They are an oral health issue, too.
Gaps and spaces form when teeth are missing. At first, the space stays the same size. However, over time, the teeth surrounding the space or gap will shift. When this happens, it not only affects your bite, but it can cause damage to the surrounding teeth.
Bone loss is another oral health issue caused by missing teeth. The bone near the gaps and spaces from missing teeth slowly starts to shrink due to a process known as reabsorption. Some loss won't affect your oral health too much, but if the bone shrinks too much, it can cause structural changes that impact your oral health.
Replacing the entire tooth is the only way to avoid these oral health problems. Dental implants are the only restorative dental treatment that replaces the entire tooth from the root to the crown. Without the supportive dental implant, other restorative dental treatments, such as dentures or crowns, will only act as a space filler and not address any of the structural issues.
Schedule a Dental Implant Consultation
Helping you achieve your smile goals is our number one priority at Noles Family Dental. Call our office to schedule a dental implant consultation.
During your dental implant consultation, we will discuss your smile goals and help you explore your treatment options. If dental implants are being considered, our dentist will conduct a brief examination and may even take X-rays to help determine if you are a good candidate for this procedure.
During your dental implant consultation, we take the time to guide you through the dental implant process from start to finish. We believe that this gives our patients the information they need to feel confident that they are making the best decision regarding their oral health.
Contact us today to schedule your dental implant consultation. We look forward to working with you to help you reach your smile goals.