Dentures (Full and Partial)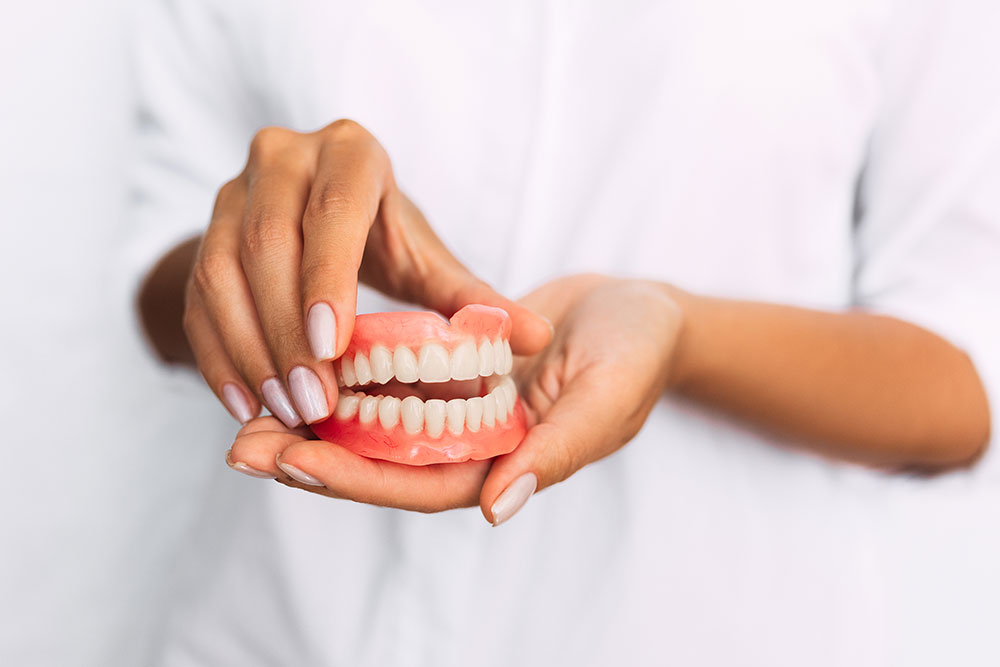 It can be difficult to perform simple, everyday tasks such as speaking and eating when you have missing or severely damaged teeth. By offering dentures as part of our restorative dental services, Noles Family Dental provides our patients with an affordable treatment option that helps them restore their smiles and improve their oral health.
What Are Dentures?
Dentures are dental appliances made of artificial teeth uniquely designed to replace missing or severely damaged teeth. This dental treatment is commonly used when multiple teeth are missing or damaged due to tooth decay, gum disease or injury.
All dentures are custom-made to ensure they fit properly and look and feel just like your natural teeth.
The Different Types of Dentures
Some of the different types of dentures we offer at our Greensburg, Indiana dental office include:
Complete dentures – a full set of artificial teeth that sit on top of the gums
Partial dentures – set of artificial teeth that replace small sections of missing or damaged teeth by clipping or snapping into place
Upper dentures – sits on the roof of the mouth and replaces the upper teeth
Lower dentures – a U-shaped or horseshoe-shaped dental device that replaces your lower teeth. It has a curved shape so there is enough room for your tongue.
Implant-supported dentures – full or partial dentures held into place by surgically placed dental implants. Visit our dental implant denture page to learn more about this specific type of denture.
Our dentists, Drs. Noles, Estes, and Steinhauer work with you to help you determine which denture option is right for you. Some factors our dentists will consider when making denture recommendations include the number of teeth missing, current oral health, and your personal smile goals. We want you to feel confident and happy with your smile.
Dentures Are Custom Made for Each Patient
Once it has been determined dentures are right for you, our dental team will need to take impressions of your teeth. The dental lab will use these impressions to create your custom dentures.
After the impressions are taken, our dental staff will work with you to create natural-looking dentures. With dentures, you can customize tooth color, gum color and size or shape of your teeth. Our dental team can provide guidance and assistance with creating your dentures so you can achieve your smile goals.
Immediate Dentures Provide a Temporary Solution While You Heal
Our dentists, Drs. Noles, Estes, and Steinhauer may recommend extractions as part of your treatment plan for getting dentures if teeth are severely damaged, broken or weak. If you need to have teeth removed, you will need to allow your jawbone, gums and surrounding tissue to heal before you get your complete dentures. We provide our patients with immediate dentures that act as temporary replacements for missing teeth. Once your bones, gums and tissue heal, we will trade your immediate denture for your complete dentures.
Discuss Denture Options With Our Greensburg Dentist
See if you're a good candidate for dentures by calling Noles Family Dental to schedule an appointment for a consultation. During your consultation, our dentist will discuss treatment options with you.