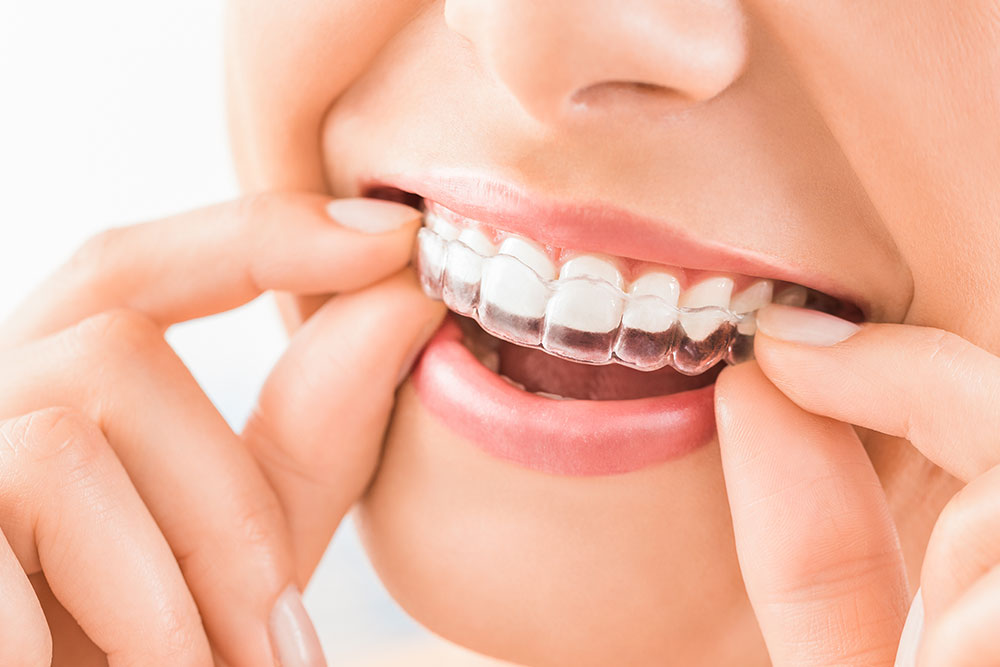 Straightening your teeth does more than just improve your smile — it can help improve your oral health. At Noles Family Dental, we offer Invisalign as a part of our cosmetic dental services. See how our dentists, Drs. Noles, Estes, and Steinhauer use Invisalign to help patients in Greensburg, Indiana and surrounding areas achieve their smile goals.
How Invisalign Works
Invisalign uses a series of custom-made, clear plastic aligners to help shift and change the positioning and placement of your teeth. Each aligner is shaped to gently shift and move your teeth. The aligner is worn for a predetermined time, usually a period of two to three weeks, and then a new aligner is used. The new aligner continues to help move your teeth into their proper placement.
The number of aligners you will have to use will vary depending on your treatment plan. Our dentists will discuss with you how many aligners you can expect to use for your treatment during your consultation.
Why Patients Choose Invisalign
Some of the reasons why people choose Invisalign for their orthodontic treatment include:
Easy to use – the aligners easily pop in and out of the mouth
Fewer food restrictions – you can remove the aligners when you eat
Fewer office visits – your dentist will check your progress every six to eight weeks
Easy to keep teeth clean – aligners are removed so you can brush and floss like you regularly do
No visible wires or brackets – the clear aligners are practically invisible
Who Is a Good Candidate for Invisalign
Scheduling a consultation to discuss Invisalign is the best way to determine if you are a good candidate for this cosmetic procedure. During your consultation, our dentists will conduct an oral health assessment to make sure your teeth and gums are healthy enough for this procedure.
Sometimes, if we notice any plaque build-up, gum inflammation or cavities, we may recommend getting restorative treatment before starting Invisalign. You will see better results from Invisalign if your teeth and gums are healthy.
In addition to your oral health, our dentists will discuss your smile goals. We want to know what you would like to change and improve about your smile. Invisalign is great for correcting certain problems, such as gaps between teeth, uneven teeth and crooked teeth. However, it isn't designed to fix problems such as overbites and underbites.
If you are a good candidate for Invisalign, we will start working with you to create a customized treatment plan. Our dentists have extensive experience and training in creating Invisalign treatment plans that help you achieve your smile goals.
Digital Photos Allow You To See How Invisalign can Change Your Smile
It is extremely important to us that we have created a treatment plan that achieves your smile goals. To help ensure that our patients are getting the results they envision after Invisalign, we use digital imaging to show you how it will change the positioning and placement of your teeth.
Achieve Your Smile Goals with Invisalign
Visit Noles Family Dental and see how Invisalign can help you create the smile you have always wanted. Scheduling a consultation is easy. Just call our dental office in Greensburg or use the online contact form to request an appointment for an Invisalign consultation.