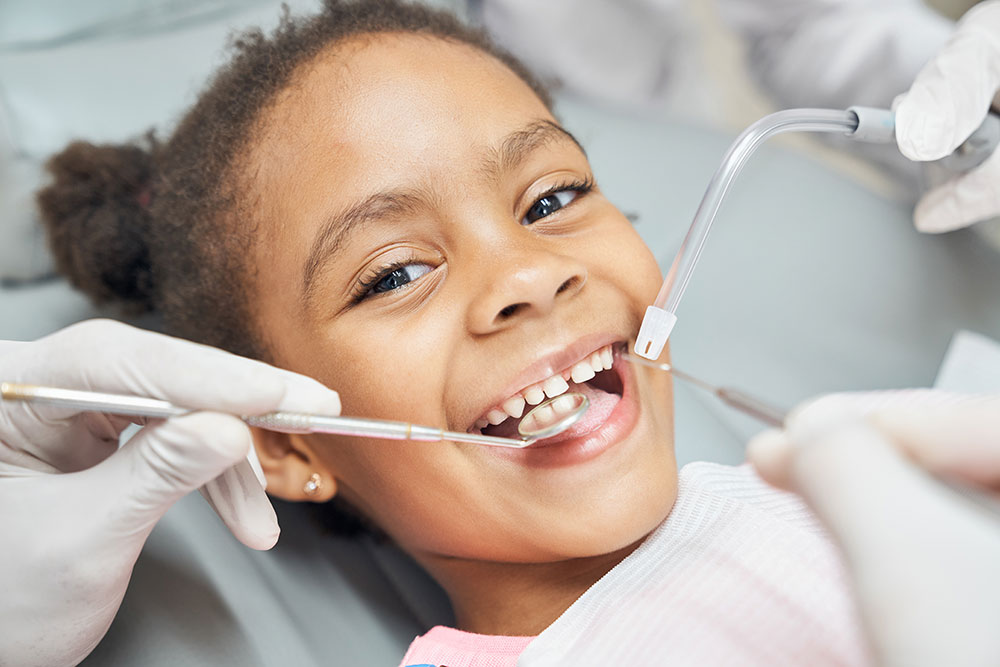 Noles Family Dental understands the importance of developing good oral hygiene habits from an early age. Many of our dental services are available even to the youngest members of the Greensburg community.
Pediatric Dentistry That Focuses on Prevention
From your child's first appointment, our dental team takes a preventative approach to pediatric dentistry. Our use of evidence-based preventative treatments helps keep your child's teeth and gums healthy and reduces their risk of experiencing serious dental problems in the future.
Noles Family Dental has experience providing the following preventative dental services to children:
Professional Dental Cleanings
Professional Hygiene Exams
Fluoride Treatments
Sealants
Custom Made Athletic Mouthguards
Gentle Approach to Pediatric Dental Care
The experience your child has at the dentist will often shape how they approach oral care in the future. At Noles Family Dental, we strive to create a calming, stress-free experience for both you and your child.
When a dental problem requires treatment, our entire dental team, from our dentists to hygienists, is there for both support and guidance. Parents feel confident that their child is getting the best dental care possible.
Our dental team is experienced in providing the following restorative dental care to children:
Dental fillings
Tooth extractions
Dental crowns
After completing a thorough dental exam, our dental team will create a treatment plan for your child that not only addresses any current problems, but one that prevents future problems and helps keep your child's teeth and gums healthy.
Educating Parents on the Importance of Good Oral Hygiene Habits
Parents play a huge role in helping children establish good oral hygiene habits. We give you the tools and information you need to help encourage your child to develop healthy habits that will last a lifetime.
Parents are welcome and encouraged to ask questions about what they can do to help improve or maintain their child's oral health.
Some of the topics our dental team has experience educating parents on include:
Proper brushing and flossing techniques
Importance of protecting your child's teeth and gums when engaging in extracurricular activities
Nutrition and the importance of eating a well-balanced diet
Tips and tricks on how to encourage children to have a good oral hygiene routine
Importance of regularly scheduled dental exams and cleanings
Understanding how dental health impacts overall health
Foods, activities and habits that may increase your child's risk of injuring or damaging their teeth
Learn More About Our Pediatric Dental Services
Make an appointment today for your child to see our dentist, and you'll be on your way to helping them establish good oral hygiene habits. Call Noles Family Dental to schedule an appointment for your child to visit with one of our Greensburg dentists. We look forward to welcoming you and your family to our dental family!